A modern, comfortable ebike with low-step frame for power-assisted riding with a long range of 50-70 miles, 4-hour charging & a top assisted speed of 15.5mph. It has 10 levels of assist; a fantastic option for commuters and those requiring the added confidence of power assist. Features: 36V Li-ion unit, detachable Samsung fuel cell, 4 hour charge-time, 250W brushless motor, front hub, Shimano Nexus 3-speed internal hub gears, Front Tektro V brake, double-walled alloy rims, all-weather tyres, covered chain, front & rear lights (batteries included), quiet motor, suspension seat, weight capacity: 125kg, adjustable handlebars. Add side panniers, baby-seats, carrier straps, lights easily. Available in matt black and matt white.

We developed the Discovery for those who like to ride in style but with little effort – you might be in a suit, or going to a meeting. It is designed so you can arrive cool, calm and collected, even in your smartest clothes. We made it a comfortable ride by choosing subtle innovations such as a quieter motor and a suspension seat. You can easily set the handlebars to suit your riding position by using the quick-release handlebar adjuster. As a result, the ride of the Discovery is comparable to driving a Rolls Royce – well, we tried to make it the Rolls-Royce of bicycling.
We designed this model to be clean and simple. We removed all the greasy parts one might associate with an eBike. For example, the gears are stored inside the rear wheel hub, which requires less maintenance, and the chain is fully covered. This means you can be sure that you will arrive at your destination as clean as your eBike.
We made sure the Discovery is ready for every day use. So… we used a large rear rack and positioned the battery to make it easy to add side panniers, baby-seats, carrier straps, lights and the other accessories.
Features
Battery: Lightweight Samsung Li-iron 36V, Range 50-70 miles, Charge time 4hrs
Motor: 250W Brushless power motor, Front hub
Gears: Shimano Nexus 3 speed internal hub gears
Brakes: Front Tekro V brake, Rear integrated Shimano roller brake
Wheels: Double walled alloy rims, All weather tyres
Lights: Front and rear (x6 AAA batteries included)
Complimentary starter tool kit: 8mm & 10mm spanner, 3mm, 4mm, 5mm & 6mm Allen keys, flathead and Phillips screwdriver
Max Load: Rider + Luggage 125kg
Colour: Matt white, Matt black
Battery
Only recently have our batteries become affordable to use in our eBikes due to advances in technology. We use Lithium Ion Co, Ni, Mn, which resists the 'memory effect' better and lasts longer than lithium ion batteries based on magnesium. We also have a 30-day ageing process during the production (this is longer than most), which means our batteries have a longer life cycle.
The cells inside the battery are from Samsung and are also used by the automotive industry for larger electric vehicles. We've tried and tested many different variations and we believe that our formula is the best. James who rode the Discovery over 2000 miles across Europe agrees.
Design
I spent a long time tweaking the Discovery so that it looks uncluttered and works perfectly. My main aim was to make it clean and simple so that it is easy to use and a joy to ride when you need to look your best. The finished result has a relaxed riding position that is very adjustable to suit your comfort and style.

A very stiff unisex low-step frame means there is no torsion as you ride: no energy is wasted. The ride on the Discovery is smooth and very comfortable, I'm very proud of it. If you get a chance, I encourage you to try out similar eBikes and compare the quality of the ride and ease of use.

When I say that I want the ride to be hassle-free, I mean it. I don't want you to have to stop midway through your journey to put the chain back on. The chain guards will not only do their best to prevent that but also keep your trousers clean and shoes shiny. Bonus – it blends in with the rest of the style of the Discovery.

I aimed to achieve minimalistic design: all the parts are matching and there are no odd bits. The matt surface allows you to be the only shiny part and the minimalism means that your style is the most important when you're on the Discovery.

Best wishes,
Frank van Passel
(Designer)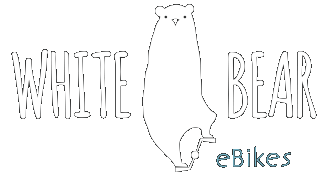 Gurantee
Satisfaction guarantee - we know you'll love your Discovery eBike. If you're not 100% happy, you can send it back to us for a full refund within 30 days, no questions asked.
Motor – 2 years
Battery – 2 years
Controller – 1 year
Charger – 1 year
Frame – 3 years